Welcome to the
Fit Mother Project.
We're So Happy You Found Us!
Watch the video below to discover how we're going to help you lose weight & get your family healthy too.
You're A Busy Mom Who Wants To Look &
Feel Amazing.

We Understand You…
We know you put your family first. We know you're busy. And we know you want to look and feel your best for life. Here at the Fit Mother Project, we're here to help you do all of that… and so much more.
From working with thousands of real moms, we've discovered the proven path to help you lose weight and get healthy while balancing your busy life and helping your family live healthier too. You can have a body you love – at any age – without fad diets or extreme workouts.
You can become a Fit Mom. We're here to help you. Here's how…
Let's Get Real. We all know what Doesn't Work...
Fad, Trendy Diets
Extreme Workouts
Scam Pills, Teas, & Detoxes
Busy moms need a weight loss program designed for busy moms. That may seem obvious, but sadly 99% of weight loss programs miss this. When you finally start using the program that fits your body, metabolism, lifestyle as a busy mom, you will see real, lasting results in record time.
Here's our simple 3-Step Formula that's worked for thousands of moms:
From Helping Thousands of Real Moms, Here's What
Does Work...
A Simple, Delicious Meal Plan
You need a simple meal plan that helps you lose weight while still enjoying delicious foods you love. No more overly restrictive diets. No more complicated recipes. No more slaving away for hours in the kitchen. Your meal plan needs to be quick, healthy, and affordable.
We created it. Get the meal plan in Your Free Fit Mom Jumpstart
Quick, Metabolism-Boosting Workouts
Support From The Fit Mother Community
Get started 100% Free. We'll send everything to your email.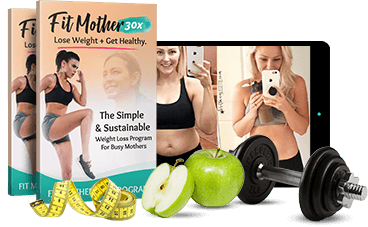 OUR FIT MOTHER 30X PROGRAM
The world's first sustainable weight loss program for busy moms.
You deserve to have a body you love at every stage of your life. We've created the program you've been looking for. Get started with us today.
- The Fit Mother Project Team