Don't just slather them in caramel! Make the most of your fall apple-picking efforts with our nutritious and delicious apple recipes!
Apples are exceptional for you and your family's health, but finding apple recipes that your family will actually enjoy may be more of a challenge.
When searching for apple recipes, it's important to keep a few things in mind.
Steer clear of recipes containing added sugar or ingredients containing added sugar.
The natural sugars present in apples make apple recipes sweet enough!
Also, avoid recipes containing highly processed meats, fatty cuts of red meat, fried foods, and sugar-sweetened beverages or condiments.
Knowing about the health benefits of apples and having nutritious apple recipes on hand can maximize your nutrition and overall wellness.
Your friends and family will adore the nutrient-dense, flavorful apple recipes below!
Want more autumn delights? Check out these healthy fall foods!
Health Benefits of Apples
Apples offer a variety of health and wellness benefits because of their lower-calorie nature, fiber, vitamin, and mineral content.
Each medium apple provides the following:
Calories: 72
Carbohydrates: 19 grams
Fiber: 3 grams
Protein: 0 grams
Fat: 0 grams
Apples are also a source of potassium and vitamin C.
They enhance healthy weight management, especially when eaten in place of desserts and other sweet treats.
The fiber and antioxidants found in apples and can help lower your cholesterol, blood pressure, and the risk of cancer, obesity, diabetes, heart disease, and other chronic conditions.
Apples offer you a boost of quick energy, making them an excellent pre- or post-workout snack.
Apples help meet your body's daily nutritional needs, allowing you to look and feel your best with a low risk of nutritional deficiencies.
There are many ways you can cook apples, dehydrate them, or add them to your favorite nutritious apple recipes!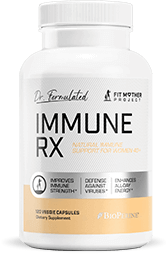 The Immune Booster Women 40+ Are Using To Kill Viruses & Feel Younger…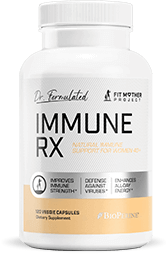 As women age, our immune systems get weaker. It's a fact. After 40, you become more vulnerable to viruses, cancers, and even Alzheimer's disease. Average women just let this all happen. But now, with Immune Booster RX, you can take the power back.
Best Ways to Eat Apples
There are several different ways you can eat apples to make them taste delicious!
Examples include:
Eat cold apples sliced as a snack
Blend apples in fruit smoothies or protein shakes
Eat apples with other fruits in fruit salads
Dip apples in Greek yogurt
Dip apples in peanut butter, almond butter, cashew butter, sunflower butter, or any other favorite nut butter
Try fruit kabobs containing apples, dipped in Greek yogurt or nut butter
Make homemade apple sauce
Dehydrate apples
Bake apples with cinnamon
To maintain exceptional health, aim to eat about 2 servings of apples or other fruit each day!
10 Nutritious Apple Recipes
You won't want to pass up these flavorful, mouth-watering, delicious apple recipes! Your friends and family will love them too!
Apple Beet Salad
This nutritious, colorful, apple beet salad recipe tastes delicious and it's packed with fiber and other essential nutrients.
Serve it up as a side dish for just about any occasion!
Ingredients
8

medium beets

(

about 2 ½ pounds) with leaves and stems cut off

1/2

cup

of

extra-virgin olive oil

1/4

cup

of

apple cider vinegar

2

teaspoons

of

Dijon mustard

1

teaspoon

of salt

1/2

teaspoon

of

ground black pepper

1

large apple,

cored and sliced

1/2

cup

of

chopped,

roasted, salted pistachios
Instructions
Preheat your oven to 400 degrees Fahrenheit.
Wrap each beet individually in foil.
Place the beets on a baking sheet and roast them for 1 hour or until tender. Let the beets cool.
Peel the beets, cut them into thin wedges, and place them in a serving bowl.
Whisk together olive oil, vinegar, mustard, salt, and pepper in a bowl and pour the mixture over the beets. Toss to coat.
Add the apples and toss to coat.
Serve the salad right away or refrigerate it until you're ready to serve.
Top the salad with pistachios and enjoy!
Servings: 8
Healthy Hot Apple Cereal
Serve this hot apple cereal recipe for breakfast, as a snack, or any time of the day!
It's nutritious and delicious, and family members of all ages will adore it.
Ingredients
1 cup of coconut milk
2/3 cup of roasted cashews (plus more for serving)
2 tablespoons of ground flaxseeds
2 teaspoons of ground cinnamon (plus more for serving)
1/2 cup of raisins (plus more for serving)
Instructions
Slice 1 apple and set aside 1/4 cup of coconut milk.
Cut the remaining 5 apples into bite-sized chunks.
Add apple chunks, 3/4 cup of coconut milk, and 2/3 cup of water to a medium saucepan and bring the mixture to a simmer over medium-high heat.
Continue to simmer, stirring occasionally, until the liquid gets reduced by half and the apples are tender (about 10 to 12 minutes).
Remove the apples from the heat and gently mash them, leaving some chunks for added texture.
Pulse the cashews in a food processor until ground.
Transfer the cashews to a bowl and stir in flaxseeds and cinnamon.
Fold the cashew mixture with raisins into the mashed apple mixture and stir until well combined.
Divide the mixture among 4 bowls and drizzle each with 1 tablespoon of coconut milk.
Top each bowl with apple slices, crushed cashews, raisins, and cinnamon.
Serve and enjoy!
Servings: 4
Nutritious Slow Cooker Applesauce
If you want nutritious applesauce without added sugar, consider the healthy homemade applesauce recipe below!
Ingredients
4

pounds of

apples (about 12 medium apples)

3/4

cup of

water

1

tablespoon of

lemon juice

1

teaspoon

of

vanilla (optional)

1

teaspoon

of

ground cinnamon (optional)

1/2

teaspoon

of

ground allspice (optional)

Pinch of salt
Instructions
Wash and quarter your apples.
Place all of the ingredients in a slow cooker and stir to combine.
Close the lid and cook the mixture on low heat for 6-8 hours or on high heat for 3-4 hours.
Use a potato masher or blender to blend apples to the desired consistency.
Allow the mixture to cool and eat it right away, or place it in an airtight container in the refrigerator until you're ready to serve it.
Enjoy!
Servings: 6
Apple Banana Protein Smoothie
Try a flavorful apple and banana protein smoothie for breakfast, between meals, or before and after workouts!
Ingredients
2 frozen bananas
2 tablespoons of peanut butter
1 apple, peeled and diced
1 teaspoon of cinnamon
2 tablespoons of plain Greek yogurt
1 1/2 cups of unsweetened almond milk
Instructions
Put the ingredients above in a blender.
Blend the mixture until smooth.
Serve and enjoy the smoothie with your family!
Servings: 2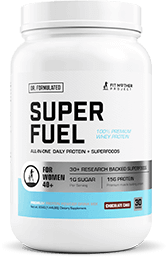 Meet SuperFuel. The Delicious Protein Shake Packed With 40+ Energy-Boosting Vitamins & Superfoods (Designed For Busy Women)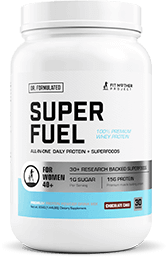 As a busy women, it's challenging to stay consistent with healthy eating. That's why we created SuperFuel… the delicious "all-in-one" nutrition shake for busy women 40+ to give your body the protein + key nutrients you need for more energy, fat burning, and muscle building.
Healthy Apple Chicken Salad
This apple chicken salad recipe is loaded with fiber- and protein-rich ingredients, as well as essential vitamins and minerals.
It tastes so delicious you'll forget it's good for you!
Ingredients
Salt and pepper
1/3 cup plus 1 tablespoon of vegetable oil
2 tablespoons of red wine vinegar
1 tablespoon plus 1 teaspoon of Dijon mustard
1 teaspoon of honey
2 apples
1/2 cup of chopped walnuts
1 small head of escarole, torn into pieces
2 heads of endive, trimmed and sliced
4 ounces (about 1 cup) of shredded cheddar cheese (optional)
Instructions
Preheat your oven to 375 degrees Fahrenheit.
Season the chicken with 1 teaspoon of salt and pepper to taste.
Heat 1 tablespoon vegetable oil in a large skillet over medium-high heat.
Add the chicken and cook until it's golden (about 5 minutes).
Transfer the chicken to an oven and roast it until a meat thermometer reads 165 degrees Fahrenheit (about 25 minutes). Flip the chicken halfway through.
Transfer the chicken to a cutting board and let it rest for 5 minutes.
To make dressing, whisk together vinegar, mustard, and honey in a large bowl.
Add 1/3 cup of vegetable oil, whisking the mixture until emulsified.
Slice the chicken.
Thinly slice the apples and add them to the dressing with walnuts, escarole, and endive.
Season the salad with salt and pepper.
Toss it and top the salad with chicken and cheese (optional).
Serve and enjoy!
Servings: 4
Nutritious Apple Chips
Make a batch of this apple chips recipe as a nutritious treat, between-meal snack, or quick pick-me-up when you're traveling or on the go!
Ingredients
1/4 teaspoon of ground ginger
1/4 teaspoon of pumpkin pie spice
Pinch of salt
2 apples
Instructions
Preheat your oven to 225 degrees Fahrenheit.
Line two cookie sheets with parchment paper.
Combine anise, ginger, pie spice, and salt in a small bowl.
Thinly slice the apples and arrange them on prepared cookie sheets (make sure the apples are close together but not touching each other.
Sprinkle them with the spice blend and bake for 1 hour.
Flip the apples over and bake until crispy for another 1 hour (or 1 hour and 15 minutes).
Cool the apples completely. Eat them right away or store the apples in an airtight container for up to 3 days.
Serve and enjoy!
Servings: 6-8
Cinnamon Apple Protein Pancakes
This flavorful, satiating, cinnamon protein apple pancakes recipe makes the best breakfast that keeps you full all morning long!
Ingredients
1 ½

cups

of

oats

1

apple,

shredded with a cheese grater

1

banana,

mashed with a fork

1/2

cup

of

milk

2

eggs,

whisked

1/4

cup of vanilla protein powder

2

tablespoons of flaxseed meal

1

tablespoon of cinnamon

1

teaspoon of baking powder

1/2

teaspoon of nutmeg

1/4

teaspoon of ground cloves

1/4

teaspoon

of

salt
Instructions
Combine all of the ingredients in a bowl and set it aside.
Heat a nonstick sauté pan over medium-high heat and spray it with nonstick cooking spray.
Pour pancake batter on a griddle and cook it until the pancakes are browned (about 2-3 minutes). Flip over the pancakes and cook them for 2-3 more minutes until the other sides get browned.
Cook the pancakes in batches until all of them are cooked.
Serve and enjoy!
Servings: 4
Spicy Apple Slaw
Serve this nutritious apple slaw recipe as a side dish for just about any occasion!
It's loaded with fiber, vitamins, minerals, and flavor!
Ingredients
Slaw
3/4 cups of golden raisins
1/4 cup of chopped pickled
1/4 cup of chopped fresh cilantro
1/4 cup of chopped Italian parsley
1/4 cup of chopped mint
2 red apples, julienned
Dressing
1/4 cup of
1/4 cup of apple juice
1/2 teaspoon of red chile flakes
1/2 teaspoon of chili powder
Salt and pepper
Instructions
In a large bowl, toss together slaw mix, raisins, jalapeños, cilantro, parsley, mint, and apples.
In a medium bowl, whisk together pickling juice, apple juice, chile flakes, chili powder, a pinch of salt, and a few grinds of pepper.
Pour the dressing over the bowl with the slaw and toss the mixture to combine.
Chill the slaw for 2 hours, stirring it once while chilling.
Serve the apple slaw cold or at room temperature and enjoy!
Servings: 6-8
Simple Apple Nachos
This nutritious apple nachos recipe is delicious but simple to make. Recruit your friend or family to help you prepare it!
Ingredients
2 tablespoons of creamy peanut butter, melted in the microwave
1 apple
Your favorite toppings (dark chocolate, raisins, chia seeds, peanuts, cashews, walnuts, sliced almonds, sliced bananas, etc.)
Instructions
Slice a fresh apple and arrange the slices on a plate.
Microwave the peanut butter until melted.
Drizzle the peanut butter over apple slices.
Top the apples with nuts, raisins, banana slices, or any other nutritious toppings.
Serve and enjoy your apple nachos!
Servings: 1-2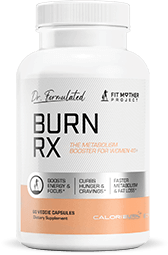 Meet Burn RX. The Safe & Effective Metabolism Booster To Help You See Faster Results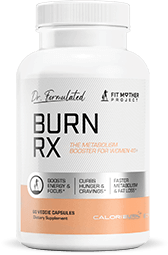 Burn RX is for women who are working on losing weight and want to see faster and easier results from their eating & exercise efforts. It helps your body burn more fat before, during, and after your workouts, which will improve your body composition while boosting your energy + metabolism.
Turkey Apple Breakfast Meatballs
Serve this turkey apple breakfast meatball recipe for breakfast, as an appetizer, or even for lunch or dinner!
Ingredients
1

pound of very

lean ground turkey

1/4

cup

of

fresh rosemary

,

chopped

1/2

cup

gala, red, or honey crisp apples

, peeled and

diced

1

tablespoon of

olive oil

4

slices

of uncured

turkey bacon

1/3

cup

of

white onion

,

chopped

1 teaspoon of salt
1 teaspoon of pepper
1/2 teaspoon of garlic powder

1/2

teaspoon of

chili powder

1/2

teaspoon of

dried thyme

2

tablespoons of c

oconut aminos

1

egg
Instructions
Preheat your oven to 400 degrees Fahrenheit.
Add olive oil to a skillet with uncured turkey bacon.
Sauté the bacon until both sides are crispy, flipping it occasionally.
Set the bacon aside on a paper towel.
When it's cool, chop the bacon into tiny pieces.
Combine all of the ingredients in a large mixing bowl.
Place the bowl in a refrigerator for about 30 minutes.
Use your hands to shape the turkey mixture to form 1 1/4- to 1 1/2- inch meatballs.
Place the meatballs on a parchment paper-lined baking sheet, leaving space between each meatball.
Bake the meatballs for 15 to 20 minutes.
Remove them from the oven, serve, and enjoy!
You can also store turkey meatballs in an airtight container in the refrigerator, or freeze them until you're ready to enjoy this delicious recipe!
Servings: 24 meatballs
*Please know that weight loss results & health changes/improvements vary from individual to individual; you may not achieve similar results. Always consult with your doctor before making health decisions. This is not medical advice – simply very well-researched info on apple recipes.