Does your exercise need a little boost? You need the best workout supplements for women!
We all know how important it is to stay active and to eat healthily.
But sometimes, it feels like time is not on our side!
Between taking care of kids and your partner, all of your energy can be zapped before you have time to focus on yourself.
That's where the best workout supplements for women come in!
If you struggle to find the energy for your workouts, these supplements can ensure that the time you do spend working out is optimized and you get a boost on the days that you need it.
Best Workout Supplements for Women: Pre-Workout
Pre-workouts are a great tool to help find and sustain the energy you need for a thorough workout.
Because every pre-workout is slightly different, it's important to read their effects and determine which would help you the most with your personal workout goals.
Creatine
Creatine is a naturally occurring molecule in our cells.
Its essential function is to create bursts of energy and promote muscular gains, making it a great pre-workout.
As one of the most studied and most taken sports supplements, it's widely seen as safe and effective.
In particular, those who participate in weight training have found muscular gains with the help of creatine.
Beta-Alanine
Beta-alanine helps your body prevent muscle fatigue, increase muscle growth, and help with sustained endurance.
This supplement can be used as a pre-workout and a post-workout.
Beta-alanine is typically most effective for workouts lasting longer than 4 minutes, rather than shorter workouts (less than 1-minute).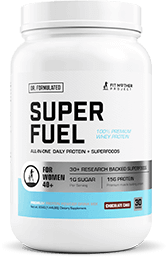 Meet SuperFuel. The Delicious Protein Shake Packed With 40+ Energy-Boosting Vitamins & Superfoods (Designed For Busy Women)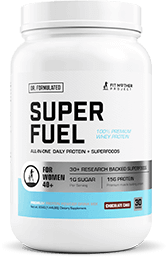 As a busy women, it's challenging to stay consistent with healthy eating. That's why we created SuperFuel… the delicious "all-in-one" nutrition shake for busy women 40+ to give your body the protein + key nutrients you need for more energy, fat burning, and muscle building.
Citrulline
Citrulline is an amino acid occurring within our bodies and is also available in some foods.
When taken as a pre-workout, citrulline has been found to increase blood flow to your tissues.
This can assist your body to receive the oxygen and nutrients it needs to perform well during exercise and muscle building.
Studies have shown that citrulline has improved endurance in bikers and helped weight lifters to increase their repetitions.
BCAAs
BCAAs — or branched-chain amino acids — include leucine, isoleucine, and valine.
These compounds have been found to improve mental and physical endurance specifically among runners.
Additionally, BCAAs have been studied to reduce muscle fatigue after activities like weight lifting or running.
BCAAs are taken as a pre-workout and a post-workout.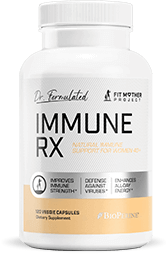 The Immune Booster Women 40+ Are Using To Kill Viruses & Feel Younger…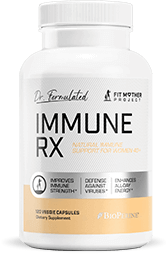 As women age, our immune systems get weaker. It's a fact. After 40, you become more vulnerable to viruses, cancers, and even Alzheimer's disease. Average women just let this all happen. But now, with Immune Booster RX, you can take the power back.
Best Workout Supplements for Women: Fat Burners
Pre-workouts do a great job of extending our motivation to work out and reducing common barriers like fatigue or soreness.
However, there are also a few specific compounds that work as fat burners in our bodies.
That may sound like a myth, but it's true!
Read on to learn how you can use fat burners as one of the best workout supplements for women.
Green Tea
Green tea has been used for centuries for its antioxidant properties and is lauded as one of the healthiest drinks on the planet.
The caffeine within green tea acts as a stimulant to help your body burn fat and improve athletic performance.
Additionally, there are specific antioxidants within green tea called catechins that boost metabolism.
Green Coffee Extract
While we already know that caffeine is helpful in reducing unwanted fat, green coffee extract helps in an additional way.
The extract is taken from beans that are not roasted yet (and are still green), so they still have chlorogenic acid within them.
Studies have shown that this chlorogenic acid has helped to reduce overall body weight.
Capsaicin
Capsaicin is a property found in chili peppers that is connected to burning fat.
It has been shown that capsaicin extract can increase your metabolic rate, burn fat tissue and decrease cravings.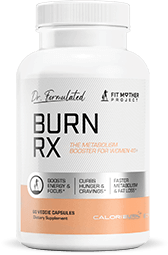 Meet Burn RX. The Safe & Effective Metabolism Booster To Help You See Faster Results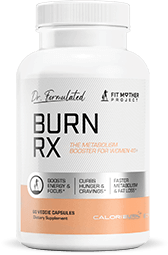 Burn RX is for women who are working on losing weight and want to see faster and easier results from their eating & exercise efforts. It helps your body burn more fat before, during, and after your workouts, which will improve your body composition while boosting your energy + metabolism.
Staying Motivated
Supplements provide an extra edge to your workout.
But if you still need help refining your diet and exercise routine, look no further than the free Fit Mom Jumpstart.
Our plan will provide you with the structure you need for a realistic diet and exercise plan.
No crash dieting, no three-hour gym sessions.
Thousands of moms have benefited from the Fit Mom Jumpstart, and you can be next!
Take the next step to perfecting your exercise routine and join the Sisterhood today!
*Please know that weight loss results & health changes/improvements vary from individual to individual; you may not achieve similar results. Always consult with your doctor before making health decisions. This is not medical advice – simply very well-researched info on the best workout supplements for women.