With several sports seasons in full swing, you might be curious about which healthy tailgate snacks you should offer to friends and family.
The good news is you can still enjoy the tailgate experience without overloading on chips, dips, hot dogs, and wings.
You just need to know what foods to choose and which to avoid!
That's why we've laid out 25 great healthy tailgate snacks you can serve at home or on the road, as well as some things you should always try to avoid.
Keep reading for our favorite healthy tailgate snacks that are sure to score with all your friends and family!
Healthy Tailgate Snacks to Choose
Consider choosing some of the following healthy tailgate foods this sports season when spending time with the ones you love!
Popcorn
Popcorn is loaded with fiber and is considered a whole grain.
It makes the perfect tailgating food for a variety of reasons, and your friends and family will enjoy munching on it before and during sports games.
But avoid certain types of popcorn, such as caramel corn and popcorn that's overly loaded with butter, artificial flavors, or excess salt.
Air-popped is best flavored with a little bit of salt, herbs, or other favorite seasonings!
Veggie Platters
Many adults and children don't eat as many vegetables as their bodies need to maintain exceptional health.
Prepare your own veggie tray or choose a store-bought veggie tray for your next healthy tailgate snack.
Add cherry tomatoes, celery, carrots, broccoli, cauliflower, bell peppers, cucumbers, or mushrooms to your platter and serve them with hummus or oil-based salad dressing without added sugar.
You might also string fresh-cut vegetables on kabobs as a healthy tailgate snack this sports season!
Another excellent option is ants on a log.
You can prepare this nutritious snack by topping celery sticks with peanut butter and raisins for the kids.
Fruit Plates or Kabobs
Cutting up fresh fruit, or making simple fruit kabobs on skewers, is another refreshing option for healthy tailgate snacks.
Cut up fresh melon, grapes, pineapple, peaches, kiwi fruit, apples, pears, watermelon, or other fresh fruits.
Coat them in lemon juice if needed to prevent browning before packing them in your favorite airtight tailgating containers.
Dip fresh fruit in peanut butter, Greek yogurt, or almond butter as your next nutritious pregame snack!
Cubed Cheeses
You can't go wrong when bringing a cheese tray as a healthy tailgate snack this sports season.
Choose a variety of sliced, cubed, or string cheeses and bring toothpicks to scoop up the cheese with.
Mix in whole-grain crackers or sliced veggies if you'd like!
Grilled Chicken or Shrimp Kabobs
Rather than grilling hot dogs or brats, which are are traditional tailgating foods but both highly processed, grill chicken or shrimp kabobs instead!
You can thread fresh veggies on your kabobs before throwing chicken or shrimp on the grill.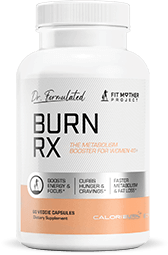 Meet Burn RX. The Safe & Effective Metabolism Booster To Help You See Faster Results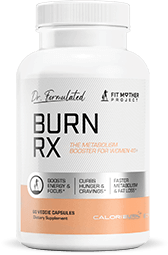 Burn RX is for women who are working on losing weight and want to see faster and easier results from their eating & exercise efforts. It helps your body burn more fat before, during, and after your workouts, which will improve your body composition while boosting your energy + metabolism.
Capri Salad Kabobs
Another simple, yet healthy tailgate snack is Capri salad kabobs you can easily take with you to pregame tailgating parties.
You'll need grape or cherry tomatoes, fresh mozzarella balls, basil leaves, olive oil, and balsamic vinegar plus skewers.
Simply string the mozzarella balls, tomatoes, and basil leaves on skewers according to your recipe instructions and drizzle them with, or dip them in, a mixture of oil and vinegar!
Turkey Chili
Whip up a batch of your favorite fall turkey chili and bring it in a crockpot to your next tailgate or pregame party this sports season.
Ingredients include lean ground turkey (you can also choose shredded chicken) plus tomato juice or sauce, veggies, beans, and all of your favorite chili seasonings!
Turkey chili is loaded with protein, fiber, and a variety of other heart-healthy nutrients and makes the perfect addition to tailgating festivities.
Black Bean or Turkey Burgers
Black bean and turkey burgers, or lean organic beef burgers, are more nutritious than traditional, fatty burger patties.
Choose very lean beef or ground turkey, black bean burgers, or other veggie burgers on the grill this sports season.
Pick whole-grain buns or skip the bun altogether in favor of lettuce-wrapped burgers!
Nuts or Seeds
Nuts and seeds make the perfect healthy tailgate snack because they're loaded with protein, fiber, heart-healthy fats, vitamins, and minerals.
Nuts and seeds boost satiety without posing a risk of unwanted weight gain.
Avoid nuts or seeds coated in sugar, however.
Choose dry roasted nuts or seeds or unsalted nuts if you're watching your sodium intake.
Mix nuts with whole-grain cereals, pretzels, or roasted chickpeas if you'd like!
Roasted Chick Peas
Chickpeas are also nutrient-dense and one of the healthiest healthy tailgate snacks available.
These peas are packed with protein, fiber, and micronutrients and they boost satiety.
Simply roast chickpeas in olive oil, salt, pepper, or other seasonings according to roasted chickpea recipe instructions.
Afterward, let them cool and bring them to your next pregame event!
Turkey Meatballs
Rather than traditional meatballs in sauce containing added sugar for a tailgate snack, make your own homemade turkey meatball recipe instead!
Ingredients include very lean ground turkey, eggs, bread crumbs, garlic, onions, parsley, salt, pepper, and oregano.
Or, mix and match your favorite nutritious ingredients to create your own version of healthy pre-game turkey meatballs!
Avocado Bean Dip
Consider a simple, nutritious, avocado bean dip recipe as a healthy tailgate snack your friends and family will love, as it's loaded with flavor.
Ingredients include cannellini beans, avocados, cilantro leaves, lime juice, onion powder, salt, cumin, hot pepper sauce, and garlic powder.
Combine the ingredients according to your recipe instructions and serve them with fresh veggies, pretzels, or whole-grain chips and enjoy!
Flavorful Edamame
Edamame is simple to make, yet it's loaded with fiber, high-quality protein, vitamins, and minerals.
Boil edamame to cook it until tender (about 4-5 minutes), drain it, and toss with salt, ginger, garlic powder, or any other favorite seasonings.
Serve and enjoy!
Tuna Artichoke Salad
This mouth-watering, healthy tailgate snack of tuna artichoke salad is loaded with nutrients and flavor, and it's easy to make.
Ingredients include artichoke hearts, dill, olive oil, lemon juice, garlic, spinach, black pepper, red bell peppers, and canned light tuna (drained).
Combine the ingredients according to your recipe instructions and serve the tuna mixture over whole-grain bread, whole-grain crackers, or inside of large, fresh tomatoes with the insides removed!
Beet Garlic Hummus
Spice up traditional hummus by choosing a colorful beat and garlic hummus recipe as your next healthy tailgate snack!
Ingredients include beets, garlic, olive oil, chickpeas, salt, pepper, lemon juice, tahini, cumin, Greek yogurt, and dill or parsley.
Prepare the ingredients according to your recipe instructions and serve the mixture with fresh vegetables or whole-grain pita chips!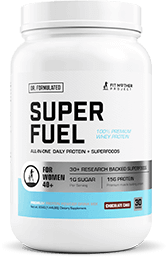 Meet SuperFuel. The Delicious Protein Shake Packed With 40+ Energy-Boosting Vitamins & Superfoods (Designed For Busy Women)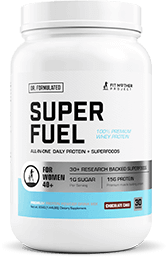 As a busy women, it's challenging to stay consistent with healthy eating. That's why we created SuperFuel… the delicious "all-in-one" nutrition shake for busy women 40+ to give your body the protein + key nutrients you need for more energy, fat burning, and muscle building.
Marinated Tomatoes
Serve up fresh, sliced, marinated tomatoes to add extra flavor to a nutritious tailgate snack!
In addition to fresh, thick-sliced tomatoes, other ingredients in marinated tomato recipes include olive oil, red wine vinegar, salt, pepper, cloves, onions, fresh parsley, and minced or dried basil.
Combine all of the ingredients and marinate tomatoes in the mixture in your refrigerator until chilled.
Serve and enjoy them at your next tailgate party!
Avocado Corn Salsa
While traditional salsa is also an excellent choice as a healthy tailgate snack, wow friends and family with this flavorful avocado corn salsa recipe!
Ingredients in it include corn, avocados, peaches, sweet red peppers, red onions, olive oil, white wine vinegar, lime juice, garlic, jalapeno peppers, and a variety of seasonings.
Combine the ingredients together based on your recipe instructions, serve, and enjoy this snack by itself or served with whole-grain chips!
Yummy Asparagus Salad
Instead of traditional tailgate snack foods, try a healthier asparagus salad instead!
It's simple to make and loaded with vitamins, minerals, and fiber.
Common ingredients in asparagus salad recipes include asparagus, salt, pepper, lemon juice, olive oil, tarragon, garlic, and Dijon mustard.
Simply combine together and cook the ingredients according to your recipe instructions, serve, and enjoy!
Banana Cream Freeze
If you're looking for an alternative to ice cream as a healthy tailgate snack, consider a banana cream freeze recipe instead!
Ingredients in this refreshing snack include bananas, almond milk, shredded coconut, peanut butter, walnuts, raisins, and vanilla extract.
The recipe tastes a lot like ice cream, but you can eat it guilt-free and your kids will adore it!
Shredded Pork Tostadas
Pass on the hot dogs, brats, and sloppy joes in favor of this savory pork tostadas recipe.
Ingredients include chicken broth, cumin, salt, pepper, boneless pork roast, onion, cloves, limes, and tostada shells (optional).
Nutritious toppings you might choose include lettuce, avocados, cilantro, lime wedges, salsa, and traditional or refried beans.
Homemade Protein Bars
Choose low-sugar, prepackaged protein bars or make nutritious homemade protein bars to bring with you as a healthy tailgate snack food for loved ones!
Your friends and family will rave about them and protein bars help keep you full for hours.
Mason Jar Greek Yogurt with Fruit
If you have small mason jars, fill them with plain Greek yogurt topped with fruit (plus nuts or cinnamon if you'd like) as a refreshing tailgate snack.
This tailgate food idea is as nutritious as it is delicious!
Matcha or Coffee Protein Shakes
Protein shakes make the perfect healthy tailgate snack, especially if you choose meal replacements to better control calories during periods of weight loss.
Shakes also help build muscle, burn fat, and lower your risk of overeating at mealtime.
Simply mix together almond milk or water with protein powder plus matcha powder or coffee!
Dill Pickles
Dill pickles don't contain the added sugar found in sweet pickles and make the perfect addition to healthy tailgate snacks.
You can make your own homemade dill pickles using home-grown cucumbers if you'd like, but store-bought dill pickles often taste just as delicious!
Instant Pot Shredded Chicken
Pass on the hot dogs, brats, and hamburgers by choosing shredded chicken as your next healthy tailgate snack!
Ingredients include skinless chicken, garlic salt, paprika, onion powder, black pepper, or any other favorite seasonings.
Simply prepare all ingredients in your slow cooker according to the recipe instructions.
Serve shredded chicken with whole-grain buns or lettuce wraps if you'd like and enjoy!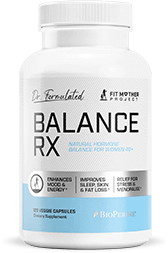 The Natural Hormone Balancer Busy Women 40+ Are Using For Improved Mood, Sleep, Skin, Stress & Easier Weight Loss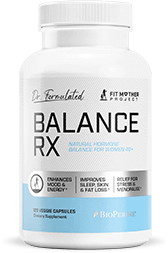 At around 40, most women's hormone levels begin a "rollercoaster' ride, which eventually culminates in menopause. You feel tired all the time. It's hard to lose weight. Your body doesn't respond to diet and exercise like it used to. But now, it doesn't have to be that way for you…
Tailgating Foods to Avoid
There are some common tailgate foods, drinks, and condiments to steer clear whenever possible to stay healthy. Examples include:
Sugar-Sweetened Drinks
Soda
Lemonade
Sweet tea
Sugar-sweetened sport drinks
Sugar-sweetened energy drinks
Other sugar-sweetened beverages
Highly Processed Meats
Ham
Sausage
Salami
Deli meats
Hot dogs
Brats
High-fat hamburgers
Regular bacon
Traditional meatballs
Refined Grains
White bread
White tortillas
White hamburger buns
Other refined grains
Sugar-Sweetened Condiments
Ketchup
Barbeque sauce
Honey mustard
Many salad dressings
Other sugar-sweetened sauces
Relish
Sweet pickles
Fried Foods
Fried chicken
Fried onion rings
Fried cheese curds
Fried shrimp
Fried fish
Other fried foods
Other Tailgate Snacks to Avoid
Doughnuts
Other baked goods
Regular potato chips
Candy
Traditional ice cream
Cakes
Cookies
Regular pizza
Meatballs in sauce containing added sugar
Sugar-sweetened beef, pork, or chicken
*Please know that weight loss results & health changes/improvements vary from individual to individual; you may not achieve similar results. Always consult with your doctor before making health decisions. This is not medical advice – simply very well-researched info on healthy tailgate snacks.