Cookies, candy canes, and treats are everywhere, but just because the holidays are here doesn't mean that holiday weight gain is inevitable!
Don't ignore health and fitness at the end of the year and think you can just dive into weight loss when the new year hits.
Adopt healthy habits now to reduce your risk of packing on the pounds this season, and start the new year with momentum!
Here's how you can avoid holiday weight gain.
Staying healthy during winter can be a challenge, especially during the holidays. These 4 tips will help!
20 Ways to Avoid Holiday Weight Gain
Don't Skip Meals to Overindulge Later
There are several ways to avoid overeating during holiday meals this season.
One of the best ways to steer clear of overindulging at mealtime is to avoid fasting before a big meal in order to feast.
It may sound like a good idea in theory, but fasting to feast can cause you to eat too much during your next meal, spiking blood sugar levels and causing fatigue, bloating, and oftentimes guilt.
During a fast (skipping meals to feast later on), you may also experience some unpleasant side effects like loss of energy, headaches, irritability, and hunger pains.
Eat Small, Frequent Meals vs. Big Meals
Rather than overindulging in just one huge meal this holiday season, eat smaller, more frequent, healthy meals often throughout the day.
That way you don't go to a holiday gathering feeling starved, making it easier to control calories when you finally eat.
Aim to consume something small (and healthy) about every few hours and make sure to keep your body moving as often as you can throughout the day!
Don't Eat Because of Stress
The holidays can get to be a stressful time of year for many people, but eating for emotional reasons can pack on calories and pounds quickly.
If you feel stressed out, do something besides eating.
Go for a walk, do house chores or yard work, exercise, try yoga, or take some time to yourself to relax and unwind.
Don't feel guilty about saying no to holiday activities for your own peace of mind.
If you're stressed and hungry, snack on nutritious foods (fruits, vegetables, nuts, seeds, etc.) and focus on your body's hunger and satiety cues to avoid getting distracted while eating or eating for emotional reasons.
Limit or Avoid Alcoholic Drinks
Consuming holiday alcoholic drinks is one big reason for packing on pounds.
That's why limiting or avoiding alcohol is one of the best ways to steer clear of holiday weight gain this season.
Some alcoholic beverages contain 500 calories or more per drink, so steer clear of them when you can.
If you do drink alcohol during the holidays, choose light beer, wine, or alcohol mixed with calorie-free mixers like club soda.
Limit yourself to just one drink per occasion.
Go For Walks Right After Eating Meals
After eating a holiday meal, go for a walk to avoid unplanned weight gain.
Studies show that walking at a brisk pace for 30 minutes immediately after a meal is more effective for weight loss than walking 30 minutes an hour after eating.
However, walking after consuming a very large meal might feel uncomfortable.
Avoid overeating at mealtime and go walking soon after eating smaller portions of food to help you maintain ideal body weight or even lose weight.
Stay Healthy When Hosting Holiday Meals
Hosting holiday gatherings is the perfect opportunity for you to serve healthy entrees, side dishes, appetizers, and drinks!
Plan out your menus to offer the perfect plate method when serving nutritious foods. Use the following guidelines:
Fill half of each plate of food with non-starchy vegetables
Fill one-fourth of your plate with protein foods
fill one-fourth of each plate of food with fiber-rich starches and/or nutritious fats
Offer fresh fruits before, during, or after holiday meals
Non-Starchy Vegetables: spinach, kale, other leafy greens, green beans, asparagus, tomatoes, cucumbers, bell peppers, broccoli, cauliflower, mushrooms, onions, zucchini, carrots, etc.
Nutritious Protein Foods: turkey, chicken, very lean red meat, fish, seafood, eggs, tofu, seitan, etc.
Fiber-Rich Starches: sweet potatoes, corn, peas, lentils, black beans, pinto beans, other legumes, wild rice, brown rice, quinoa, and other whole grains.
Heart-Healthy Fats: avocados, olive oil, other plant oils, olives, nuts, seeds, nut butter, and fatty fish.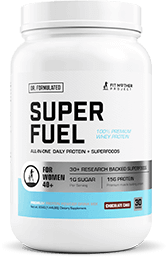 Meet SuperFuel. The Delicious Protein Shake Packed With 40+ Energy-Boosting Vitamins & Superfoods (Designed For Busy Women)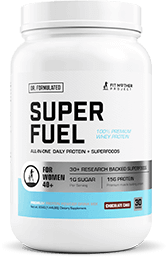 As a busy women, it's challenging to stay consistent with healthy eating. That's why we created SuperFuel… the delicious "all-in-one" nutrition shake for busy women 40+ to give your body the protein + key nutrients you need for more energy, fat burning, and muscle building.
Pick Nutritious Appetizers
If you serve appetizers this holiday season, choose the healthiest options.
Put together a veggie, fruit, or cheese tray.
Consider shrimp, broth-based soups, or salads without sugar-sweetened dressings.
Skip fried appetizers and those mixed with creamy sauces to avoid packing on pounds this holiday season!
Make Wise Choices at Holiday Parties
If you attend holiday parties this year, make wise choices when it comes to snacking and being around a lot of food.
Don't arrive at holiday parties very hungry, as doing so increases your chance of overindulging.
Bring your own healthy entree or side dish and fill up on salads, fruits, vegetables, lean protein foods, and nutritious fats.
Limit or avoid ham, salami, sausage, regular bacon, and other highly-processed meats, as well as baked goods and desserts if you can.
Try not to get distracted while eating, as doing so may cause you to miss your body's hunger cues.
Don't eat because of boredom or feeling anxious at holiday parties.
Choose water over alcohol, soda, and other sugar-sweetened beverages.
Drink water before meals to help you feel full from fewer calories!
Start New Active Holiday Traditions
Holiday traditions don't have to involve sitting around the house all day and eating a lot of food.
Start new, active traditions this year instead!
Go for family hikes, take a family vacation, or play sports games with your kids outdoors.
Go caroling, try skiing or snowboarding, or sign your family up for a fun run.
Play Twister or active video games, or go sledding as a new holiday tradition.
Include healthy meals in your holiday schedule, but don't make eating a main focus.
Maintain Eating and Exercise Schedules
Don't let the holidays prevent you from sticking to a regular exercise and eating schedule.
Make a good effort to avoid skipping workouts.
Eat at about the same times each day if you can and avoid skipping meals.
Take nutritious snacks with you to holiday gatherings, to avoid splurging on junk food or getting too hungry before meals get served.
If you're traveling or staying with family members, schedule time to go to the gym or exercise outdoors.
You could also complete at-home indoor workouts.
Even if you have just 20-30 minutes to spare, make exercise a top priority to steer clear of holiday weight gain this season.
Spend Less Time Sitting Down
During holiday gatherings, limit time spent sitting down as much as possible.
Excessive sitting boosts your risk of overweight, obesity, and chronic diseases linked with obesity (diabetes, heart disease, etc.).
Take as many breaks from sitting as you can this holiday season.
Go for short walks, do house chores, climb stairs, or simply stand up when visiting with family and friends instead of sitting down.
The more you keep your body moving, the more calories you'll burn and the less likely you are to succumb to holiday weight gain.
Stay Away From Sugary Drinks
Saying no to sugary drinks is one of the simplest ways to cut empty calories from your meal plan and avoid holiday weight gain.
Beverages to limit or avoid include soda, lemonade, sweet tea, sugar-sweetened juice drinks, eggnog, and other sugar-sweetened alcoholic beverages.
Furthermore, avoid diet sodas and other diet drinks if you can.
Artificial sweeteners used in these drinks can trigger cravings for real sugar and other sweet treats.
Studies show that some artificial sweeteners are linked with weight gain.
Choose water, coffee, tea, 100% juice, or milk instead!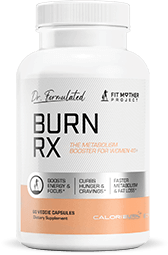 Meet Burn RX. The Safe & Effective Metabolism Booster To Help You See Faster Results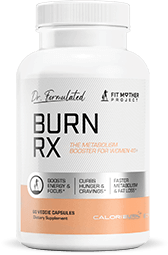 Burn RX is for women who are working on losing weight and want to see faster and easier results from their eating & exercise efforts. It helps your body burn more fat before, during, and after your workouts, which will improve your body composition while boosting your energy + metabolism.
Choose Desserts Wisely
There's no doubt that overindulging in desserts can hinder healthy weight management during the holiday season.
However, some desserts are higher in sugar and calories than others.
Steer clear of traditional pies, ice cream desserts, cakes, cookies, and candies if you can.
Pick healthy holiday desserts instead to reduce your risk of packing on holiday pounds!
Examples include crustless pumpkin pies, apple quinoa bowls, cinnamon baked pears, and many other nutritious options that don't contain added sugar.
Work Out Each Morning
Regardless of when you eat holiday meals, schedule in time for workouts, even quick ones, each morning.
Doing so can give your metabolism a boost during exercise and all throughout the day, which reduces your risk of holiday weight gain.
Working out early in the morning helps maximize energy levels all day long.
Getting on this schedule makes you less likely to avoid skipping workouts because of feeling too full after meals.
After eating smaller holiday lunches or dinners, go for a walk to further reduce your chance of packing on pounds.
Find Ways to Lower Carbs
Traditional holiday meals are usually loaded with carbs, but they don't have to be!
Make some healthy recipe swaps this season.
Examples include mashed cauliflower or cauliflower "rice" instead of mashed potatoes, zucchini noodles in place of traditional pasta, or cauliflower stuffing in place of traditional stuffing.
If you prefer higher-carb sides, pick fiber-rich options (brown rice, wild rice, sweet potatoes with the skin, peas, or corn) over white rice, white bread, and other refined grains.
Use Smaller-Sized Plates
Whatever you can fit on small- to medium-sized plates during holiday meals is what you should try to stick with.
You can always go back for seconds if needed.
This way, you don't have to feel guilty for wasting food or feeling like you have to clean your plate.
If you do go back for second helpings, stick with lower-calorie options like salads, non-starchy veggies (broccoli, zucchini, cauliflower, green beans, etc.), turkey, chicken, or other lean protein foods.
Help with Meal Prep and Do Dishes
Helping prepare food and washing dishes may not seem like calorie-burning activities, but they are!
And, you'll earn extra points with friends and family members for pitching in during holiday meal prep and clean-up.
A 155-person expends about 70 calories in just 30 minutes calories while cooking, about the same number of calories (70 calories) washing dishes, and up to 106 calories in 30 minutes while grocery shopping.
Giving a helping hand is a win-win situation for all involved!
Keep the Kids Active
It's just as important to keep your kids active during the holidays as it is for adults to move their bodies regularly.
Be the family member that plans ahead for fun, active kids' games, and other activities to keep your entire family moving.
Plan games like table tennis, outdoor sports games if the weather cooperates, active video games, pool or dart tournaments, or holiday-themed scavenger hunts.
Go hiking, caroling, sledding, ice skating, or take dogs for a walk.
The kids will gain lasting memories and burn off some much-needed energy!
Recruit your kids to help you cook, clean up afterward, or do house chores and yard work to prepare for holiday gatherings!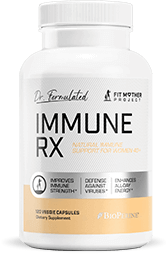 The Immune Booster Women 40+ Are Using To Kill Viruses & Feel Younger…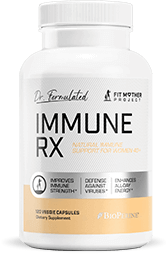 As women age, our immune systems get weaker. It's a fact. After 40, you become more vulnerable to viruses, cancers, and even Alzheimer's disease. Average women just let this all happen. But now, with Immune Booster RX, you can take the power back.
Listen to Your Body's Hunger Cues
If you pay close attention, your body gives you clues as to when to eat, how much to eat, when to stop eating, and how much water to drink.
Pay careful attention to your body's cues for hunger and satiety (feeling full).
Eat slowly during holiday meals and don't get distracted.
This helps ensure you don't miss your brain's cues that you're full and should stop eating.
Being in tune with your body and eating only when you feel hungry can help you avoid holiday weight gain this season and every time of the year!
Join the Fit Mother Project
In addition to avoiding holiday weight gain this season, rely on the Fit Mother Project healthy living program for women to help you maintain a healthy lifestyle and an ideal weight for life.
This highly effective program, designed for busy moms over 40, offers custom meal plans, fat-burning workouts, social support from other fit moms, health coaching advice from medical experts, nutritious recipes, weekly newsletters, and much more!
It has helped hundreds of thousands of members achieve and maintain their goal weights, get fit, look and feel younger, and maintain healthy habits for a lifetime.
To boost your chance of avoiding holiday weight gain this year, or lose weight after packing on pounds, try the free Fit Mom Jumpstart today!
*Please know that weight loss results & health changes/improvements vary from individual to individual; you may not achieve similar results. Always consult with your doctor before making health decisions. This is not medical advice – simply very well-researched info on holiday weight gain.