Maximizing joint health for women over 40 is more important than ever, as arthritis and other joint problems can be crippling and diminish your quality of life.
That's why knowing the warning signs, joint disease risk factors, and ways to enhance joint health for women over 40 is a must!
Make simple lifestyle changes, one at a time, until you reach health, wellness, and fitness goals.
Maintain ideal weight, eat nutritious foods, exercise regularly, and see your doctor for routine health checkups and monitoring.
Properly manage arthritis or other diseases that negatively affect your joints.
Arthritis and other chronic disease treatments can reduce disease progression and keep pain levels as low as possible.
Consider the tips below to keep your joints strong, reduce pain, and prevent debilitating injuries.
Learn how to achieve joint pain relief as naturally as possible!

Meet Joint RX. The Advanced Joint Support, Recovery Aid, Inflammation & Pain Reducer for Women
Joint RX is for women feeling the aches of getting older and want a research-backed supplement to feel better & move younger. It will help reduce pain in your problem areas and help you workout with less pain. Joint RX increases your body's natural joint lubrication to boost your healing and recovery.
What You Need to Know About Your Joints
Your joints connect two bones together and are made up of muscles, bones, tendons, ligaments, and cartilage.
Joints are located in your:
Spine
Shoulder
Elbows
Wrists
Fingers
Hips
Knees
Ankles
Toes
Joint problems can occur because of a disease, injury, or age-related wear and tear.
They can cause pain and other debilitating problems that negatively affect your quality of life.
Taking steps to maximize joint health for women over 40 can reduce your risk of joint pain and crippling problems in the future.
Joint issues can happen to anyone, but certain things increase your risk of experiencing joint pain and injuries.
Examples include:
Rheumatoid arthritis
Osteoarthritis
Gout
Psoriatic arthritis
Other types of arthritis
Osteoporosis
Fractures
Age-related wear and tear
Poor dietary habits
Lack of exercise
Obesity
Current or previous joint injuries
Car accidents
Sports-related inquires
Adopting healthy habits is one of the best ways to reduce your risk of joint pain and optimize joint health for women over 40.
Common signs and symptoms you may experience if you have joint problems include:
Tenderness
Joint pain
Swelling
Stiffness
Redness
Decreased range of motion
Limited mobility
Pain with movement
Difficulty walking
Arthritis, other diseases, and injuries can cause your joints to look or feel disfigured.
Joint pain might prevent you from staying active or completing simple everyday tasks.
Examples include getting regular exercise, going grocery shopping, completing house chores, walking the dog, and doing yard work.
How Does My Doctor Diagnose and Treat Joint Issues?
To find out if you have arthritis, another inflammatory disease, or a joint injury that contributes to pain, your doctor checks your vital signs, discusses your symptoms, and reviews your medical history.
They complete a physical examination to assess your overall joint health and range of motion.
Your doctor might have you complete blood tests, urine tests, joint fluid testing, X-rays, MRIs, CT scans, ultrasounds, or other imaging procedures to find the root cause of joint problems and develop an effective treatment.
Common medical treatments available for joint problems include medications, injections, physical therapy, stem cells, platelet-rich plasma (PRP), and surgery to repair, fuse, or replace worn or damaged joints.
Home remedies, such as heat or ice packs, braces, shoe inserts, or canes can also relieve joint pain and reduce the risk of debilitating soft tissue injuries.
Maximizing Joint Health for Women Over 40
Whether you have joint problems or you simply want to prevent them, try the highly effective strategies below to maximize joint health for women over 40!
Maintain a Healthy Weight
Maintaining a healthy weight is one of the best things you can do to enhance joint health for women over 40 and lessen the pressure placed on your joints.
It lowers your risk of developing arthritis and other chronic diseases.
Eating nutritious foods, getting regular exercise and plenty of sleep, and drinking more water can make healthy weight management easier and boost your quality of life.
If you struggle to lose weight on your own, consider trying a healthy living program designed just for busy moms, especially those over 40.
The Fit Mother Project is a highly effective healthy living and weight loss program that has helped millions of members reach their goal weight and maintain it for life.
FMP programs offer custom meal plans, fat-burning exercises, health coaching support from medical experts, social support from other fit moms, weekly newsletters, and more.
Try the free Fit Mom Jumpstart to get started on your journey toward better health today.
JOIN OUR fit mother 30X PROGRAM
FM30X is the first sustainable weight loss program designed exclusively for busy mothers just like you...
LEARN MORE
Drink Plenty of Water
Drinking plenty of water to stay hydrated is important for your joint health, overall health and wellness, and healthy weight management.
If your goal is weight loss, aim to drink two cups of water before meals and at least two cups of water when you first wake up in the morning.
Women need about 12 cups of fluids daily, depending on their size, body composition, metabolism, physical activity level, and the amount of water they lose daily through sweating.
Your personalized fluid needs might be more or less than 12 cups, as this is just a general guideline.
Make sure your urine is clear or light yellow in color, rather than dark or bright yellow (or brown) to ensure you're drinking enough water.
Choose the Right Type of Exercise
Exercise is one of the best things you can do to maximize joint health for women over 40, as well as your overall health and wellness.
Regular exercise strengthens your joints, prevents future injuries, and helps you achieve or maintain a healthy weight.
However, when it comes to exercise, choosing the right type of workout for your joints is important.
If you have sore, swollen, or achy joints, consider walking, swimming, cycling, rowing, elliptical workouts, or resistance-training exercises.
Yoga and tai chi are other great options.
Avoid a lot of pounding on your joints (running, jumping, etc.) if you have weak or painful joints.
Eat Healthy Foods
Eating healthy foods for joint health can reduce inflammation, maximize strength, improve flexibility, and reduce the stress placed on joints because of being overweight or obese.
Get a good mix of nutritious foods and drinks in your diet daily and avoid junk foods.
Fill half of each plate of food with non-starchy vegetables (leafy greens, tomatoes, cucumbers, celery, bell peppers, onions, mushrooms, asparagus, broccoli, cauliflower, zucchini, etc.).
Fill the other half of each plate with protein foods (eggs, chicken, fish, seafood, lean organic beef, tofu, veggie burgers, or other plant-based proteins) plus fiber-rich starches like corn, peas, beans, lentils, other legumes, sweet potatoes, quinoa, oatmeal, brown rice, wild rice, or other whole grains.
Add about two servings of fruit and three servings of dairy foods (milk, plant milk, Greek yogurt, cottage cheese, plain kefir, etc.) daily to meet your body's nutritional needs.
Consume heart-healthy fats like olive oil, other plant oils, avocados, nuts, seeds, or nut butters at each meal.

Meet Heart RX. The Blood Pressure, Cholesterol, and Healthy Circulation Support For Women 40+
Heart RX is for women who are taking (or have taken) medication for lowering cholesterol and blood pressure. Heart RX will provide you with the natural support to improve all aspects of your heart health – including: blood pressure, healthy cholesterol, and better circulation.
Complete Physical Therapy if Needed
If you struggle with joint problems and pain and want relief without medication or surgery, your doctor may suggest physical therapy stretches and strength-training exercises designed to improve joint health.
Your physical therapist may recommend you complete joint-relieving aerobic exercises, resistance band exercises, light weight training, or other exercises using specialized PT equipment.
A licensed physical therapist can customize a treatment regimen personalized for your unique needs, health goals, and lifestyle.
They let you know which joint-strengthening exercises to complete at home between in-office visits.
Consider Acupuncture
During holistic acupuncture, your medical provider inserts very fine needles into specific areas of your skin to stimulate new cell generation, improve blood flow, and reduce arthritis pain and other types of joint discomfort.
You may need multiple acupuncture treatments to achieve long-lasting relief.
Try Yoga or Tai Chi
Studies show that slow stretching, yoga, and tai chi movements can improve joint flexibility and range of motion in people with arthritis and other joint issues.
Consider adding tai chi or yoga to your workout regimen, or simply make time to stretch thoroughly after each workout.
Consider Massage
Massage, or light kneading of your muscles, helps increase blood flow, warm your joints, and relieve joint discomfort and stiffness.
A licensed massage therapist, physical therapist, or chiropractor can massage affected joints and surrounding tissues to offer you relief.
Ask Your Doctor About Regenerative Medicine
Regenerative medicine is an excellent way to heal joints and relieve ongoing pain without medication or surgery.
Your doctor may offer regenerative medicine, including stem cell treatment or platelet-rich plasma (PRP) injections, to stimulate your body's natural healing ability and boost new cell generation.
Take Joint Health-Enhancing Supplements
Taking dietary supplements designed to optimize joint health in women over 40 is one of the best things you can do for your joints and overall health and wellness.
The Fit Mother Project provides Joint RX supplements that contain the following joint-enhancing ingredients:
Vitamin D
Vitamin K
Vitamin B6
Folate
Vitamin B12
Calcium
Magnesium
Zinc
UC-2 Collagen
Turmeric extract
Boswellia serrata extract
Hyaluronic acid
Pine bark extract
Boron
Black pepper extract
These vitamins, minerals, herbs, and other joint pain-relieving ingredients work synergistically to improve joint health.
They reduce your risk of vitamin deficiencies, fatigue, chronic diseases, and other health problems.

Meet Joint RX. The Advanced Joint Support, Recovery Aid, Inflammation & Pain Reducer for Women
Joint RX is for women feeling the aches of getting older and want a research-backed supplement to feel better & move younger. It will help reduce pain in your problem areas and help you workout with less pain. Joint RX increases your body's natural joint lubrication to boost your healing and recovery.
Consider Meal Replacements
If you struggle to maintain an ideal weight and want to lose weight to enhance joint health for women over 40, consider protein shakes or other meal replacements to reduce your calorie intake without feeling deprived.
Mix protein powder with water, milk, or plant milk, and add fruit or nut butter if you'd like!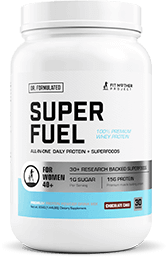 Meet SuperFuel. The Delicious Protein Shake Packed With 40+ Energy-Boosting Vitamins & Superfoods (Designed For Busy Women)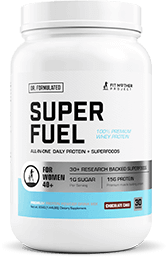 As a busy women, it's challenging to stay consistent with healthy eating. That's why we created SuperFuel… the delicious "all-in-one" nutrition shake for busy women 40+ to give your body the protein + key nutrients you need for more energy, fat burning, and muscle building.
Things to Avoid to Maximize Joint Health
In addition to maximizing joint health for women over 40 by adopting healthy habits, avoid certain foods and activities that can place extra stress on your joints and increase the risk of getting injured.
Examples include:
Joint Stress
If you have sensitive or painful joints, avoid high-impact activities that increase joint stress.
Examples include sprinting, cutting, abruptly changing direction, jumping, and other high-impact activities.
Avoid heavy lifting using improper form.
Instead, choose walking, stair climbing, swimming, cycling, rowing, elliptical machine workouts, or other lower-impact activities.
If you have strong joints and your doctor gives you the OK, higher-impact workouts are fine.
Junk Foods
Steer clear of junk foods to reduce inflammation and joint discomfort, maintain a healthy weight, and maximize joint health for women over 40.
Drinks to steer clear of include sodas, sweet tea, sugar-sweetened energy drinks, and other sugary beverages.
Choose unsweetened coffee or tea, water, milk, plain kefir, low-sugar protein shakes, or 100% fruit juice instead.
Avoid sweets, fried foods, highly processed meats (ham, regular bacon, bologna, deli meats, hot dogs, sausage, etc.), high-fat red meats, white bread, white rice, other refined grains, and baked goods.
Limit or avoid barbecue sauce, ketchup, and other sugar-sweetened condiments when possible.
Unhealthy Weight Gain
To maximize joint health for women over 40, it's important to avoid unhealthy weight gain by maintaining healthy habits you can stick with for a lifetime.
Exercise at least 30 minutes daily, get at least seven hours of sleep, drink about 12 cups of water or other healthy drinks, and avoid junk foods and alcoholic drinks as much as possible.
If you struggle with this, turn to the Fit Mother Project to help you meet nutrition, fitness, sleep, and overall health goals.
Smoking, Drinking, and Drug Use
To reduce your risk of health problems, including joint issues, avoid habits that aren't good for your health.
Don't smoke or use recreational drugs and limit or avoid alcohol.
If you do drink, do so in moderation by limiting yourself to one drink (or less) weekly if you can!
*Please know that weight loss results & health changes/improvements vary from individual to individual; you may not achieve similar results. Always consult with your doctor before making health decisions. This is not medical advice – simply very well-researched info on joint health for women over 40.