Maintaining a healthy weight is important to stave off chronic medical conditions. But, as women age, this becomes more of a challenge due to menopause weight gain.
For women over age 50, weight gain is a major health concern.
It is around this age that the hormone fluctuations that contribute to menopause occur.
Perimenopause, or the menopause transition, begins when menstrual irregularities start and ends with the last menstrual period.
Unfortunately, this transition is associated with changes in body composition, including increased abdominal (visceral) fat and a higher risk of chronic diseases such as cardiovascular disease.
This is due to hormonal changes, chiefly the decrease in estrogen levels associated with menopause.
Low estrogen levels associated with menopause tend to lead to increased fat deposition in the abdominal region.
This abdominal obesity is a key factor not just in weight gain, but also in insulin resistance, metabolic syndrome, and the development of Type 2 diabetes.
In addition to increasing abdominal fat, aging and menopause also appear to change the way that fat is metabolized.
This further contributes to the accumulation of body fat after menopause.
Here's what you need to know about menopause weight gain — and what you can do about it.
Dealing with a meno-pot belly? Here's how to combat it!
Weight Gain and Psychological Health
Not only does weight gain associated with menopause cause physical health issues, but it can also significantly impact mental and emotional health as well.
Putting on extra pounds can decrease self-esteem and general well-being, which can make it harder to stay motivated to continue an active lifestyle.
Fortunately, weight gain does not have to be an inevitable outcome once menopause hits.
Incorporating a combination of healthy nutrition choices and exercise can improve physical and psychological health.
Plus, weight loss through diet and exercise can even decrease symptoms associated with menopause, such as hot flashes.
Just one more reason to stay committed to a fitness routine!
JOIN OUR fit mother 30X PROGRAM
FM30X is the first sustainable weight loss program designed exclusively for busy mothers just like you...
LEARN MORE
Exercise and Menopause
No matter what your age, exercise is important for maintaining a healthy weight.
This means that if you enter menopause already leading an active lifestyle you are already at an advantage.
The American Heart Association recommends a total of 150 minutes of moderate-intensity aerobic activity or 75 minutes of vigorous aerobic activity a week.
However, they also note that you will have even more health benefits by being active at least 300 minutes, or five hours a week.
It may sound like a lot at first glance, but this time can easily be broken down into 50 minutes of daily activity.
This can be divided throughout the day as well if you don't have time to dedicate to 50-minute workouts.
A couple of 20-minute walks, or interval workouts throughout the day all add up.
In addition, women will lose muscle and bone mass during menopause. However, resistance exercise will help preserve lean muscle mass and enhance bone strength.
Plus, a full-body resistance workout will burn a significant amount of calories.
By building lean body mass you will be increasing your metabolic rate at rest so that you are burning more calories throughout the entire day as well.
All of this will help minimize menopause weight gain.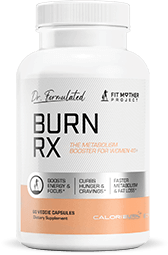 Meet Burn RX. The Safe & Effective Metabolism Booster To Help You See Faster Results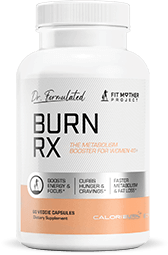 Burn RX is for women who are working on losing weight and want to see faster and easier results from their eating & exercise efforts. It helps your body burn more fat before, during, and after your workouts, which will improve your body composition while boosting your energy + metabolism.
Yoga
Not only does yoga promote flexibility and balance, but it also improves hormone fluctuations, cholesterol levels, and metabolic syndrome risk factors in obese postmenopausal women.
Studies have shown that practicing yoga may also be effective in preventing cardiovascular disease caused by obesity.
This is important since weight gain and cardiovascular disease risk are increased in postmenopausal women.
In addition, yoga promotes positive mental health changes in post-menopausal women.
In a study from Complementary Therapies in Medicine, 12 weeks of yoga training decreased menopausal symptoms and promoted positive physical and psychological changes in women.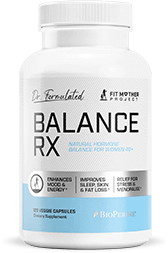 The Natural Hormone Balancer Busy Women 40+ Are Using For Improved Mood, Sleep, Skin, Stress & Easier Weight Loss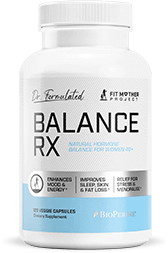 At around 40, most women's hormone levels begin a "rollercoaster' ride, which eventually culminates in menopause. You feel tired all the time. It's hard to lose weight. Your body doesn't respond to diet and exercise like it used to. But now, it doesn't have to be that way for you…
A Healthy Diet
While exercise plays a key role in maintaining a healthy weight during menopause, you still can't out-exercise a bad diet.
Making smart nutritional choices throughout the day is essential in avoiding a big weight gain during menopause.
To avoid this weight gain, especially gaining abdominal fat, you need to limit foods with high amounts of simple carbs and added sugars.
These foods increase insulin levels and your body's potential to store fat.
Shopping around the perimeter of a grocery store is a good rule of thumb.
This means sticking to fresh, whole foods like fruits and vegetables, and avoiding processed foods that you find down the aisles.
You also want to be sure to get an adequate amount of protein during the day and after workouts.
Choosing leaner protein sources, like chicken and fish, will give you a great protein boost without a lot of saturated fat.
However, you also don't want to deprive yourself.
It's not helpful to think of foods as "bad" or "off-limits" or you won't be able to stick to a healthy eating pattern long term.
This should be a lifestyle change, not a "diet."
In the end, it's all about smart nutrition decisions.
Simple things like drinking water instead of soft drinks and eating fresh whole foods instead of processed, packaged foods are little things that can make a big difference.
Improve Your Physical and Mental Health to Overcome Menopause Weight Gain
Staying fit and maintaining a healthy weight can be tough, especially as women get older.
But you can combat weight gain that comes with menopause by staying active and paying close attention to your dietary choices.
Maintaining a healthy weight is increasingly important in menopause to decrease the risk of chronic health issues.
By committing to a fitness and dietary regimen early on in this transition you can minimize the weight gain that often comes with decreasing estrogen levels.
Weight loss through diet and increased physical activity has been shown to help prevent obesity, metabolic syndrome, and to alleviate menopausal symptoms.
In addition to making smart nutrition choices and increasing activity, other exercises like yoga may also be beneficial for weight loss during menopause.
Committing to alternative activities like yoga can also improve emotional health and overall feelings of well-being, which is crucial during menopause.
Aging is inevitable.
However, weight gain and a decreased quality of life don't have to be just because you've hit menopause.
Staying committed to an active lifestyle and making healthy dietary choices can help you continue to live a fit, healthy, and happy life for many years to come.
*Please know that weight loss results & health changes/improvements vary from individual to individual; you may not achieve similar results. Always consult with your doctor before making health decisions. This is not medical advice – simply very well-researched info on menopause weight gain.