While there are a number of different exercises that strengthen and tone the arms, skull crushers are one of the best for really isolating the triceps.
Having strong, sculpted arms is the envy of many women.
The underarm area can be a "problem" zone for many ladies, and women are often looking for triceps exercises to tone up this part of their arms.
Don't let the name scare you away!
The skull crusher only gets the name because if you use a poor form, you could potentially drop the weight on your head.
But when done correctly, skull crushers are an awesome arm exercise that really isolates the triceps.
Here's how to do skull crushers safely and properly.
Tone The Triceps
Understanding the anatomy of the tricep muscle will help you specifically target this part of your arm while doing any tricep exercise, including skull crushers.
The tricep muscle runs along the back of your upper arm and has three heads — hence the name tricep.
It helps extend the arm at the elbow joint and also acts as an antagonist of the biceps and brachialis.
The triceps also helps to stabilize the shoulder by keeping the head of the humerus in its correct position in the shoulder joint.
When you perform skull crushers, you want to isolate the triceps so that you feel the burn in the back of the arm and not in the forearm or shoulders.
This will help you get strong, toned arms.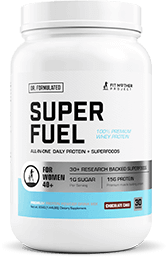 Meet SuperFuel. The Delicious Protein Shake Packed With 40+ Energy-Boosting Vitamins & Superfoods (Designed For Busy Women)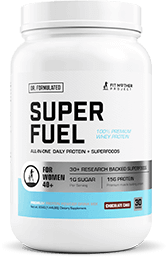 As a busy women, it's challenging to stay consistent with healthy eating. That's why we created SuperFuel… the delicious "all-in-one" nutrition shake for busy women 40+ to give your body the protein + key nutrients you need for more energy, fat burning, and muscle building.
How To Do Skull Crushers
Lay on a flat gym bench face up with your legs to each side on the floor or resting on the bench.
You can also lay on a mat on the floor if you don't have a bench.
Hold a single dumbbell with both hands above your chest, straight up in a vertical position.
Choose a weight that you can do 10-12 reps with.
Start out with a lighter weight until you perfect the form, and then gradually increase the weight as you gain strength.
Bend your elbows and bring the weight down toward the rear of your head.
Keep your upper arms perpendicular to your body.
Also, be sure to keep your upper arms from moving back and forth with the weight as this will move the work into the shoulders instead of focusing it on the triceps.
Bring the dumbbell down until it is in line with the benchtop.
Then slowly extend the weight back up until it is back above your chest.
Repeat for 10-12 reps.
Learn the proper skull crusher form, one of the best triceps exercises for women.
Skull Crusher Variations
Two Dumbbell Skull Crushers
Instead of holding one dumbbell, you can hold a light dumbbell in each hand and bring them together as you perform this exercise.
EZ-Curl Bar Skull Crushers
Some women find it more comfortable to hold a curl bar overhead and perform skull crushers.
However, this can put more strain on the wrists.
Again, the movement is the same. Just hold a curl bar with an overhand grip as you bend your elbows to bring the weight down and back up again with each rep.
Incline Bench Skull Crusher
You can perform this exercise on an inclined bench.
This will target different areas of the triceps than when doing it lying flat.
Tempo Skull Crushers
These are sometimes also referred to as "negative" skull crushers because you emphasize the lowering, or eccentric phase, of the exercise.
Eccentric strength training exercises have been found to increase muscle damage and boost hypertrophy.
To maximize the eccentric phase of the skull crusher, very slowly lower the dumbbells or bar for a slow count of 3-5 seconds.
Pause at the bottom, and then return the weights to the starting position. 
Tips For Performing the Perfect Skull Crusher
Lower the Weight Behind Your Head, Not Over Your Face
While it is called a skull crusher, you don't literally want to crush your skull!
As you bend your elbows, be sure that the weight is moving behind your head and not over your face or forehead.
Not only can this risk dropping the weight on your head, but you also won't work the triceps muscle as well if your arms are too far out in front of you.
Keep Your Elbows In!
As you lower the weight behind your head, keep your elbows close to your side and pointing straight ahead.
If you flare your elbows out to the side you won't be isolating your triceps muscles.
Plus, if you find your elbows flaring out, you probably have chosen too heavy of a weight.
This will increase your risk of injury.
Trade it in for a lighter dumbbell to really target your triceps.
Go Slow
The quality of any strength training exercise is always more important than the quantity.
While it may feel like you did more when you can write down a ton of reps, this means little if you have poor form.
Be sure to move slowly through each stage of this exercise so that you really feel the burn in both the lowering (eccentric) and raising (concentric) movements of the skull crusher.
You don't have to use heavy weights when performing skull crushers.
Studies have shown that you can still build muscle with lighter weight, as long as you do the exercise to failure.
So challenge yourself by slowing down the movement. 
Crush Your Upper Body Workout
Skull crushers are one of the top tricep workouts out there.
However, a lot of women may have never even heard of this arm toning exercise.
But by adding this move to your upper body routine you will get strong, sculpted arms in no time!
*Please know that weight loss results & health changes/improvements vary from individual to individual; you may not achieve similar results. Always consult with your doctor before making health decisions. This is not medical advice – simply very well-researched info on skull crushers.