Is frozen fruit healthy? There are several things to watch out for when buying frozen fruit for you and your family.
While you probably know that fruit offers many nutritional benefits, learning the facts about frozen fruit, if you should eat it, and how much to consume is a must!
The main thing to be on the lookout for is the expiration date listed on frozen fruit packaging and the ingredient list.
The list lets you know if there's any added sugar, preservatives, or other additives in your favorite frozen fruit.
Whether or not you eat frozen fruit, or serve it to your spouse and kids, is entirely up to you!
There are pros and cons associated with frozen fruit, but mainly pros.
Leave the skin on fruit before you freeze it so it retains much of its fiber, vitamin, and mineral content.
Here's what else you need to know so you can truly answer the question, 'Is frozen fruit healthy?'
Learn more about the positives and negatives of fruit and separate the myths from the facts!
Is Frozen Fruit Healthy?
The nutritional breakdown of frozen fruit varies depending on the type of fruit you choose, but frozen (and fresh) fruit often provides the following in each portion:
Calories: 45 -135
Protein: 0-1 grams
Carbohydrates: 15-27 grams
Fiber: 2-8 grams
Fat: 0 grams
The actual amount of calories and macronutrients found in frozen fruit depends on the type of fruit you choose, the portion size, and whether or not the frozen fruit you're eating contains added sugar.
Some of the many vitamins and minerals found in fresh, frozen, and dried fruit include:
Folate
Other B vitamins
Vitamin C
Vitamin A
Vitamin E
Vitamin K
Manganese
Magnesium
Potassium
Fresh and frozen fruits are also a good source of antioxidants and fiber, which help reduce your risk of heart disease, cancer, other chronic diseases, and their risk factors.

Meet Heart RX. The Blood Pressure, Cholesterol, and Healthy Circulation Support For Women 40+
Heart RX is for women who are taking (or have taken) medication for lowering cholesterol and blood pressure. Heart RX will provide you with the natural support to improve all aspects of your heart health – including: blood pressure, healthy cholesterol, and better circulation.
Fruits You Can Freeze and Ways to Freeze Them
You can freeze just about any favorite fruit, such as:
Apples
Bananas
Pears
Peaches
Plums
Pineapples
Oranges
Lemons
Limes
Rhubarb
Melons
Cherries
Apricots
Grapes
Kiwi fruit
Mangos
To freeze fruit properly, wash and slice the fruit. Place fruit that browns when sliced, such as apples and pears, in lemon juice prior to freezing to prevent browning.
Place sliced fruit on parchment paper on a baking sheet in your freezer for about 1-2 hours.
Take the fruit out of the freezer and place it in a Ziplock bag or airtight container. Put the fruit back in your freezer and store it until you're ready to enjoy it!
Eat fruit frozen or thaw it in a refrigerator for about six hours before serving it. Enjoy the fruit with your friends or family!
Is fruit good for weight loss? Learn about the best fruits for dieting!
Pros and Cons of Frozen Fruit
You and your loved ones can reap many benefits by adding frozen fruit to your meal plan.
Examples of pros and cons associated with frozen fruit include:
Pros
One of the main benefits of choosing frozen fruit is that you can store it longer than fresh fruit.
Frozen fruit contains many of the same nutrients found in fresh fruit, as vitamins and minerals stay put during the freezing process.
Many types of fruit are OK to eat up to 12 months after being frozen, which helps reduce food waste due to fresh fruit going bad before you and your family have a chance to eat it.
Frozen fruit offers you a quick boost of energy from natural sugar, which is a much better alternative than consuming added sugars in sweet treats and sugary drinks.
Cons
Frozen fruit is healthy, especially when you freeze it yourself at home after preparing it properly.
However, some types of commercially prepared frozen fruit contain added sugar.
Check the ingredient list on nutrition facts labels to ensure the frozen fruit you choose contains only fruit, or fruit and all-natural ingredients, without added sugar or artificial ingredients.
Another possible drawback you could encounter with frozen fruit is that when you thaw it the fruit's texture, color, or flavor might be slightly different than the original fresh fruit.
Fresh fruit, frozen fruit, and dried fruit all offer a variety of essential nutrients like natural sugar, vitamins, minerals, and fiber.
However, fruits aren't the best source of dietary protein or heart-healthy fats.
Frozen fruit and fresh fruit generally contain the highest amounts of micronutrients, as some nutrients can get lost during the fruit-drying process — especially with sun-dried fruits.
The good news is that you can pair fruit with foods rich in protein or fat, such as nuts, seeds, nut butter, cottage cheese, Greek yogurt, or a protein shake to boost satiety and the overall nutrient profile of your snack!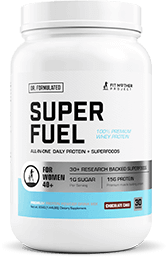 Meet SuperFuel. The Delicious Protein Shake Packed With 40+ Energy-Boosting Vitamins & Superfoods (Designed For Busy Women)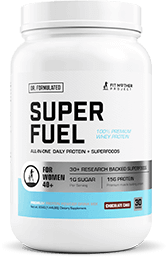 As a busy women, it's challenging to stay consistent with healthy eating. That's why we created SuperFuel… the delicious "all-in-one" nutrition shake for busy women 40+ to give your body the protein + key nutrients you need for more energy, fat burning, and muscle building.
How Much Frozen Fruit Should I Eat?
There are no specific rules when it comes to eating frozen fruit, but the Dietary Guidelines for Americans recommend many women consume about 2 servings of fruit daily, depending on their daily calorie requirements.
One serving from the fruit group equals 1 cup of fresh fruit, 1 cup of frozen fruit, 1 cup of 100% fruit juice, or 1/2 cup of dried fruit.
Therefore, aim for about 2 cups of fresh or frozen fruit per day or 1 cup of dried fruit daily.
There are several ways you can incorporate frozen fruit into a meal plan to reap the many nutritional benefits fruit offers.
Examples include:
Frozen Fruit Smoothies
Frozen fruit smoothies are packed with vitamins, minerals, fiber, and other essential nutrients and they're refreshing!
Simply blend together your favorite frozen fruit with water, milk, 100% juice, or plant milk in a blender until smooth.
You might choose berries, melons, bananas, pears, peaches, pineapples, or any other favorite frozen fruit.
Protein Shakes With Frozen fruit
Adding frozen fruit to protein-rich shakes means you can enjoy refreshing meal replacements, pre- or post-workout nourishment, or between-meal snacks without needing ice cubes!
Simply blend together milk or plant milk, protein powder, your favorite frozen fruit, and nut butter (peanut butter, almond butter, cashew butter, etc.) if you'd like.
You might add oatmeal to the mixture to help you feel full longer.
Frozen Fruit Kabobs
Frozen fruit kabobs make an excellent healthy snack option for your kids, your spouse, and yourself!
You might serve frozen fruit kabobs instead of sweet treats for dessert.
Simply wash and cut up your favorite fruit into bite-sized pieces, string the fruit on skewers, and freeze them in an airtight container.
Enjoy the kabobs when you're hungry and dip them in Greek yogurt or nut butter if you'd like!
Frozen Fruit Popsicles
You can make frozen fruit popsicles in a variety of different ways.
Blend fresh fruit together in a blender with water, plant milk, or 100% fruit juice.
Place the mixture in popsicle molds with popsicle sticks or in ice cube trays.
Allow the mixture to freeze for about six or hours or until solid.
Frozen Fruit Greek Yogurt Parfaits
If you love the taste of Greek yogurt, consider making frozen fruit yogurt parfaits for breakfast, as a between-meal snack, or before or after workouts.
Simply add frozen berries or any other favorite frozen fruit to Greek yogurt.
You might top the mixture with granola (with no added sugar), nuts, seeds, or other nutritious toppings of your choice!
Dark Chocolate-Covered Frozen Fruit
Rather than serving traditional sweet treats for dessert for friends and family, consider making dark chocolate-covered frozen fruit bites instead!
Dark chocolate is rich in antioxidants, which can reduce your risk of heart problems and other chronic diseases.
To make this recipe, simply melt dark chocolate in a microwave until it forms a liquid.
Stir the chocolate and dip sliced bananas, cherries, or another favorite fruit of your choice into the chocolate until well-coated.
Place chocolate-covered fruit in your freezer on parchment paper for up to 4-6 hours or until solid.
Frozen Fruit with French Toast or Pancakes
If you love the taste of French Toast or pancakes with fruit, consider adding frozen fruit to your favorite breakfast entrée!
You can first thaw the fruit, mash it, or heat it up if you'd like to get in your daily dose of fruit without the added sugar.
Your family will love eating fruit this way!
You can also add fruit to healthy homemade muffins.
Frozen Fruit Water
Rather than drinking ice water to quench your thirst (though water is an excellent healthy drink option), add frozen fruit to water instead to chill it and give it an extra boost of flavor!
Add frozen berries, apple slices, peaches, melons, or any favorite frozen fruit to filtered water to enhance its palatability.
Fruit Salad
You can thaw frozen fruit in your refrigerator prior to preparing a fruit salad recipe.
Simply add mixed frozen fruit to a bowl, soak fruits that brown (apples, pears, etc.) in lemon juice or orange juice, add nutmeg and ground ginger if you'd like, and serve homemade fruit salad recipes to your loved ones.
Cereal With Frozen Fruit
Is frozen fruit good for you? You can add frozen fruit directly to oatmeal to give it a boost of flavor plus minerals, vitamins, antioxidants, and extra fiber!
Thaw frozen fruit prior to adding it to your favorite cereal if you'd like.
Or, blend frozen fruit with oatmeal and plant milk (plus protein powder if you'd like) to make a protein-oatmeal smoothie.
Frozen Fruit Snow Cones
Your kids will love a healthier version of snow cones just as much as traditional snow cones!
Simply blend the frozen fruit of your choice together with crushed ice in a blender, serve, and enjoy this nutritious snack!
Fruit Smoothie Bowls
To make refreshing fruit smoothie bowls, simply blend together ice and your favorite frozen fruit.
Place the smoothie mixture in a bowl and top it with the favorite toppings of your choice (sliced berries, bananas, chia seeds, shredded coconut, sliced almonds, pumpkin seeds, etc.).
Pork and Berry Salsa
This pork and berry salsa recipe is loaded with flavor, nutrients, and color!
Ingredients
Salsa
1 1/4 cups of fresh or frozen blackberries, thawed and drained
1 1/4 cups of fresh or frozen raspberries, thawed and drained
1 cup of fresh or frozen blueberries, thawed
1 medium sweet red pepper, finely chopped
1 jalapeno pepper, minced
1/2 medium red onion, finely chopped
1/4 cup of lime juice
3 tablespoons of minced fresh cilantro
1/4 teaspoon of salt
Pork
2 pork tenderloins, cut into 3/4-inch slices
1 teaspoon of salt
1/2 teaspoon of pepper
2 tablespoons of olive oil, divided
1/2 cup of white wine or chicken stock
2 shallots, thinly sliced
1/2 cup of chicken stock
Instructions
Place the first 5 ingredients in a bowl and toss lightly to combine.
Reserve 1 cup of the berry mixture for your sauce.
Gently stir onion, lime juice, cilantro, and salt into the remaining mixture and let it stand for about 30 minutes.
Sprinkle the pork with salt and pepper.
In a large skillet, heat 1 tablespoon of oil over medium-high heat.
Add half of the pork and cook it until a meat thermometer reads 145° Fahrenheit (about 2-4 minutes per side).
Remove pork from the pan and repeat the steps with the remaining pork and oil.
Add wine, shallots, and the reserved berry mixture to your pan and stir well.
Bring the mixture to a boil and cook until the liquid gets reduced to 1 tablespoon (about 4-6 minutes).
Stir in chicken stock and cook the mixture until the shallots get tender (about 5 minutes longer), stirring occasionally.
Return the pork to the pan, heat it through, serve with berry salsa, and enjoy!
Servings: 6
*Please know that weight loss results & health changes/improvements vary from individual to individual; you may not achieve similar results. Always consult with your doctor before making health decisions. This is not medical advice – simply very well-researched info on answering the question, 'Is frozen fruit healthy?'